St. Petersburg: A personal look
Getting ready for the football festival
I'm not a huge football buff, but I like watching the most important events together with my brothers. Me and three real fans from my family, my dad and two brothers, decided that we must go! Moreover, I live in St. Petersburg, and one of my brothers lives in Moscow, in the very heart of the championship life.
The procedure for ticket sales was divided into three phases. The first and second stages were a random selection draw, and during the third stage the tickets were sold on a First Come First Serve basis. As far back as six months before the match in Moscow my brother applied for the tickets: Iceland – Argentina.  But it was already too late, when we noticed it: the cheapest ticket cost 20,000. So we were cut off from the match. I would call this ticket "golden" – it's not just a World Cup ticket, but also no need for a visa, and it's free travel between the host cities and at the intracity lines. What a wonderful, just a crucial chance to see Russia, as broad and versatile as life: the two capitals, the Black Sea beauty, the landscapes of the Volga, the Urals…
That moment you miss your cities revival to modernity
But I would like to tell you a little more about St. Petersburg.
As everyone knows, St. Petersburg is one of the host cities. I lived and studied there for four years, walked a lot, explored the capital of the North, and could easily help foreigners or just non-resident tourists to know their way around the city. After graduating from the university (it was exactly one year ago), I left to work in France. That is why I did not see with my own eyes how the city gradually changed. The change when I came back was quite the shock.
Firstly, the railway stations had been redecorated. However, I can't say that now I like the building of the Moskovsky railway station more. Some tattiness gave it peculiar charm. Now it looks somehow soulless and cheap.
Secondly, I think, now it's simply impossible to get lost in St. Petersburg (in its historical part). The blue information boards in Russian and English are everywhere: they show you where to walk, and how long the walk will take. In addition, a tourist office has appeared. And I'm so glad to have one in our city! Since I was often surprised that there were no official tourist offices with free information in such touristically attractive cities as Moscow and St. Petersburg. In Europe, you can find them even in the smallest cities. Sometimes such an office is a silver bullet.  I have not visited the St. Petersburg one yet, but I'll definitely check it out. Well, the young guys with the "I know the city!" badges, segwaying around the Gostiny Dvor, are also happy to help you.
Thirdly, a few new metro stations started operating. So, I'm going down to the metro to get home using a familiar route, and I cannot find the station I need, Primorskaya. How so? After all, I remember: the metro green line, the last station. I'm standing in the center of the station: Rybatskoye on the left, and Begovaya on the right. What Begovaya? And it turned out that my Primorskaya was no longer the last station.
Fourthly, the large Krestovsky bridge connecting Vasilievsky and Krestovsky Islands towards the Petrovsky stadium. When you stand on the Vasilievsky Island, at the very edge between two harbor stations, and look left and right, you lose the feeling that you are in St. Petersburg, with its Fontanka, the Hermitage, Atlants, and Nevsky Prospekt. This is New Petersburg, a city of the future. With the huge modern bridges, stadiums, and Lakhta Center, the so-called "Candle", the tallest building in Europe. The futuristic views and huge ferries soaked into the blaze of the sunset.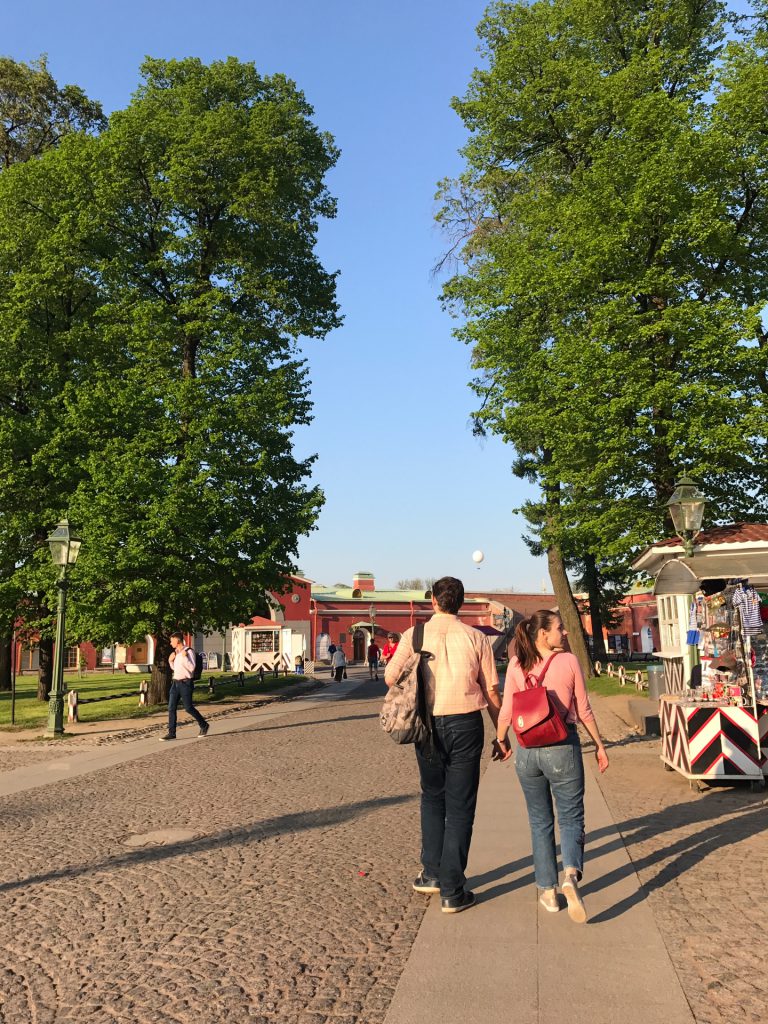 The best about an international sports competition? The people
Finally, it is the overall holiday atmosphere, the doubled or tripled number of guests from other countries, a bunch of colors, songs, screams, football chants, laughing and singing people who came here not to see the football competition, but to participate in a big football festival. They are all full of light, zest, and spirit. And I'm very glad that I have an opportunity to talk with most of these people, since I studied not only English, but also French, Italian, and German. When I take the metro with an American standing on the right, a French on the left, and an Italian behind, I can understand each of them – and I like it a lot. And I can address each of them, share their joy, or give them a piece of advice as a local.
One of the most remarkable moments was meeting an elderly French couple who spoke poor English. They found themselves far from the center, and tried to talk to passers-by, panicking and hoping to find someone who spoke French. They lost their way, and could not understand how to return to the hotel. After that meeting, I received an invitation to Rouen, one of my favorite French cities.
Yesterday our city hosted the Russia – Egypt match. People won't stop talking about it, because Russia won! It was an unexpected victory for many, so we are slowly beginning to believe in miracles and in our team. But in general, me, my father and brothers are cheering for Spain, because they play beautiful football. One of my brother is also a fan of Argentina, as he wants Messi to win at least one tournament with his national team, but it's unlikely. And my mother jokes and says she is cheering for Tunisia, just for fun.