Lingoda's Guide to the Russian Leather Ball Competition 2018
Guide to Ekaterinburg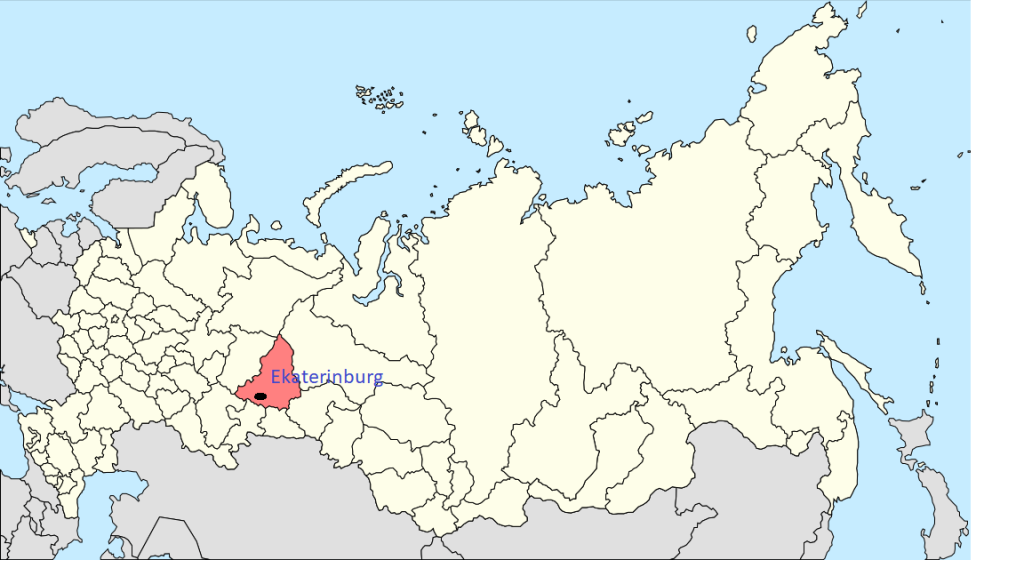 Ekaterinburg, at the heart of the Russian half-continent.
Fun Facts:
-Outside of football, Ekaterinburg is a hub for Russian athleticism. Since 1952, 137 Olympic medals have gone to the city through the athletes who originated there.
– The German Consulate General gifted the iconic "Berlin buddy Bears" to the city of Ekaterinburg.
-Partner cities of Ekaterinburg are Wuppertal, Germany; San Jose, United States; Guangzhou, China; Genoa, Italy; and Hamedan, Iran.
– Ekaterinburg sports clubs are first in the nation in Football, Ice Hockey, Women's Ice Hockey, Women's Basketball, Women's Volleyball and second in all male equivalents of those sports. Pretty solid stats.
– As a cultural and intellectual hub, Ekaterinburg counts 50 museums, 50 libraries, has the third most theaters in the country. It also includes 164 educational institutions, making it one of the largest educational centers in Russia.
– Ekaterinburg has a monument to the late Michael Jackson:
Climate:
Ekaterinburg, located in the region of Sverdlovsk Oblast, is landlocked in the heart of Russia. It is equidistant to the Caspian See in the South West and the Ob River in the North East. The region also has a very high concentration of lakes in the area. This gives it a humid continental climate. Temperatures have ranged from -46,7°C in December 1978 to +38,8°C in July 1911. On average, temperatures range from -12,6°C to +19°C. During the competition, temperatures are expected to hover at around +23-24°C.
Must-see Landmark:
-Church of All Saints, although relatively new (built 2000-2003), the church is an absolute must-see for anyone visiting Ekaterinburg.
-Rastorguyev-Kharitonov Palace is another beautiful landmark of the city. It is arguably the most beautiful palace in all the region a definitely worth a visit.
-Want to know more about Russian politics? Visit the Boris Yeltsin Center after a stroll down the Iset River.
Guide to Kaliningrad
Fun Facts:
–It is an enclave taken from Nazi Germany after World War 2 and located between Poland and Lithuania with no direct connection to Russia.
-Kaliningrad, formerly known by many other names like Königsberg, Twangste or Kunnegsgarbs, has a very old and rich history. It was Teutonic, Polish, Prussian, German and now Russian.
-Immanuel Kant, one of the most important and influential intellectuals of modern times, spend his entire life in former Königsberg. He went to the Albertina educational institution, now known as the Immanuel Kant Baltic Federal University. He died there in 1804.
-Kaliningrad Oblast contains 90% of all the amber in the world. Under the right conditions it can be worth as much as gold. And if you're lucky and find a piece with an insect or animal inside, it can go up to hundreds of thousands of dollars.
Climate:
–Due to its proximity to the Baltic See and a high concentration of lakes and rivers In the area, Kaliningrad enjoys a humid continental climate with high humidity (avrg. 75% in July).
-Record low temperatures were recorded at -33,3°C and record highs at +36,5°C. Average temperatures, thus to be expected during the competition, is +23°C in July
-For the competition, we can expect relatively mild temperatures and possible precipitation (avrg. 16 rainy days in June and July). So bring your rain coats !!
Must-see Landmarks:
(Due to its long and intense history, there are countless landmarks that need to be on that list. So this is anything but exhaustive):
-Königsberg Cathedral, build in 1380, was destroyed by a British air raid in the night of August 29th 1944. Reconstruction only took place in 1992, after the collapse of the Soviet Union. The tomb of Immanuel Kant, "Sage of Königsberg", is in a mausoleum adjoining the cathedral.
– The Museum of the World Ocean (technically, there is only one Ocean in the world) is the only "complex maritime museum in Russia". Its exhibits include several research vessels, a ship for space communication and a -413 submarine. And loads of water vegetation and animals.
-Definitely go check out the Upper Pond, in the North East of the city. If you bring kids with you, you might want to visit the Youth Recreation Park. It has rides, indoor ice skating and boating on the lake.