Can you learn a language in three months?
Learn a Language with the last ever Lingoda Marathon Challenge
Just ask our students. Daria Skachkovskaya not only completed the English Marathon in three months, but she decided to come back for more! She has signed up for our next marathon, to learn German, starting in October.
Last week she visited our offices and spoke to our Marathon expert, Laura. if you would like to view the video of the interview, check out our Facebook page, here
Laura: Hi everyone and welcome to Lingoda. I'm Laura and I'm here today with the lovely Daria. She has just completed our English marathon and will be taking our German marathon which starts on the first of October. So, Hi Daria. How are you?
Daria: Hi everyone. I am fine.
L: So, you came to Berlin in April 2018. What were the reasons you wanted to move to Germany and Berlin in particular?
D: I was in love with Berlin, with the possibilities I have here, with the people. They're just totally crazy and different from the country that I was born in. And mostly the spirit of freedom.
L: What are your top three tips for Berlin, where people should go?
D: My absolute favorite place is the Pergamon Museum. It's a museum of classic art but it's really inspiring. Every step you take you can find something interesting about other countries and it encompasses the spirit of Berlin, where there are people from everywhere.
There are also a lot of other great districts in Berlin, for example the Nikolaiviertel, which is the oldest part of Berlin. It's near Alexanderplatz. It has a very nice atmosphere with really old pubs where you can try German original food. Also, there are a lot of possibilities to go and encounter some sub-cultures. But that's everywhere in Berlin. You just go to a cafe and you see some entertainment show or some cinema.
L: So much to do, it's hard to narrow it down! You've just finished the English Marathon. Do you think that speaking English also helps in Berlin? Other than German obviously.
D: Of course. Berlin is like a melting pot but here you can't do anything if don't speak German or English. Everybody speaks English here. Elsewhere in Germany people want you to speak German. But here the good thing is that you can do whatever you want with English.
L: And you did the English marathon, C2 Level, which is the highest level. How did you find it, tell us about your experience. Was it easy or difficult?

D: It was very hardcore for me but increased my level of knowledge. The greatest thing is the teachers. The teachers are amazing. They're people from everywhere, they're really intelligent and can tell you very interesting things about the topics of the lesson, about their experience, about their cultures, about their overview of everything. They are very experienced so they can give you very useful tips.
L: Not just about language, but about German culture as well.
D: Yes.

L: And did you manage to fit your lessons around your busy schedule?
D: It was not easy. I would even say it was really difficult to follow the schedule, but somehow I did it, successfully. It's a really good thing to study every day. The more you practice the better you speak. There is only one way to learn a language: to speak it.
L: You speak four languages, is that correct?
D: Yes, I also speak Spanish, on a very high level, a little bit of French and obviously German.
L: You will be starting the German Marathon on the first of October. How do you feel about that? Are you ready to learn German again almost every day?
D: Well, I already learn every day on the streets of Berlin. But it will be very good to have some grammar exercises. And the German teachers at Lingoda are the best teachers because it is a German company and your German teachers are the best of the best.

L: Have you got a favourite teacher?

D: Hmm, not exactly.
L: Okay, let's not name names. We don't want favouritism!
D: I teach languages myself, so I'd be very upset if someone didn't choose me!
L: Oh yes, you mentioned that you teach languages. Have you got any tips other than taking the Marathon and learning every day. What else should you do to keep the language in your mind and get more confident?
D: I think the first tip is that you should study the themes you really like. Don't go studying subjects that don't align with your personality. Study something that you are really passionate about. Do what you love and what you really like to do. Don't make it more difficult for you, make it easier.
L: Why take that lesson about a math topic if you're more interested in art? That doesn't make sense. The curriculum at Lingoda is really varied so you can pick different topics and skills, grammar, vocabulary, all these kind of things ….
D: The thing about Lingoda that I love is that you can study at 12 o'clock at night if you want, you can study grammar if you feel like doing a hard lesson or you can have a discussion if you feel like you need the more relaxed way.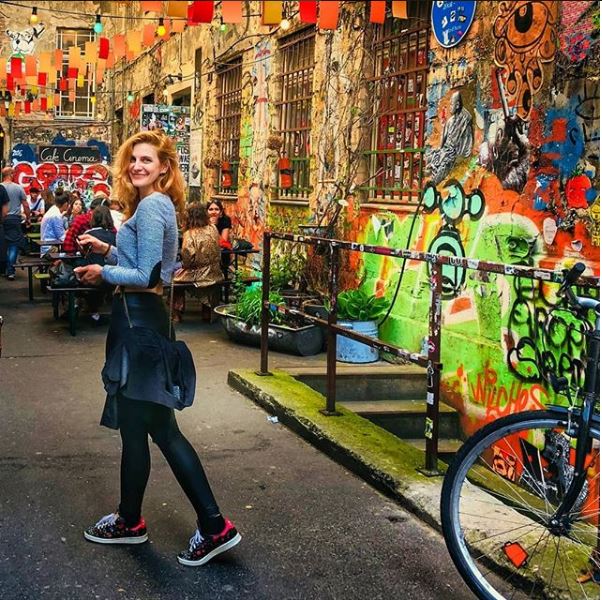 L: Something else we should mention is that it's 24/7, so you can take a lesson at three in the morning if you want to.
D: Yes, that is something that I really liked.
L: So you passed the English Marathon, with flying colors. So, what made you think: "Okay, I am going to put myself through that again and I am going to enter another Marathon."?
D: First when I finished, I said "Never again", but then I changed my mind.
L: What made you change your mind?

D: I think it's really about the result that you get. When you speak every day, you practice every day, it puts you in this mode where you must do it. And for me, a not-very-organised person, it's the best way.
L: So it organises you in a way since you have to plan your life around it?

D: Yes. You know that you will have a lesson, so you book it, it's one hour a day, and then you go.
L: Are you looking forward to starting?

D: Of course I do. I'm in love with Lingoda.
L: Can you teach me any German then? I am only an A level German. Will you be starting B2?
D: I hope it won't be too hard. but with Lingoda, the good thing is that you can go up and down the levels. It's very convenient.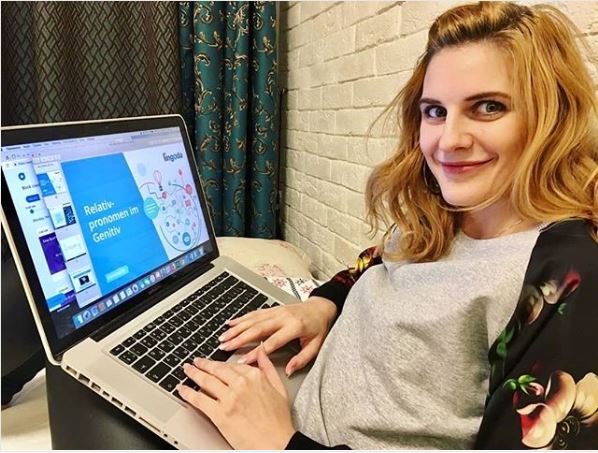 L: So what do you think I need to practice to B Level?
D: Some useful phrases.
L: Ok – can you give me an example.

D: I don't know! How about "Du bist Hübsch"
L: What does that mean?

D: You're nice, you're cute.

L: Oh, thanks. Well on that note, thank you very much for coming in to see us.   
You can take it in English, Business English as well, Spanish, German and French. And if you want to take it in German, you never know. You might end up having a lesson in the same class as Daria.
Join Daria!
If you'd like to start your own language learning journey, visit our website and sign up for the Lingoda Marathon Challenge. You'll be on your way to fluency in no time.