According to a survey, the most popular breakfast in the UK is the humble fry up. With over 5 million Brits eating sausages every day, we can see why! However, over recent years, the popularity for the humble English Breakfast is in fear of decline. Customers, typically the younger generations, are opting for healthier options, such as avocado on toast, granola or fruit salads.
Does generation Z know what a greasy spoon is? Are they in danger of missing out on one of the best breakfasts in the world? How can you miss out on the joys of black pudding, sausages, fried eggs, and beans? We asked the Lingoda team about their experiences of the English breakfast… good and bad!
Learn languages at your pace
Lingoda does breakfast
The debate regarding the best British breakfast began as a simple one. With differing sides arguing whether it's ketchup or HP sauce, scrambled or fried eggs. Surely poached eggs are reserved purely for hipsters? But the overall consensus was that the breakfast, whether it's a German, Irish, Scottish, or vegetarian variation is the best hangover cure.
Those of the team who haven't experienced a typical greasy spoon cafe, are now excited to try it. They are ready to throw their crushed avocado and eggs benedict aside in favour of a real British favourite.
We decided to put together our perfect Great British Breakfast menu for you, along with some handy phrases which you could use when visiting the UK.
Let's keep this brilliant UK breakfast at the top of everyone's to-do list!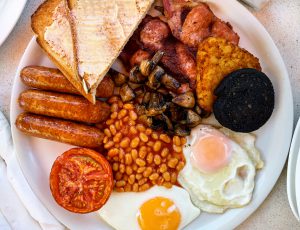 Great British breakfast requirements
2 sausages
At least 2 rashes of bacon
1 hash brown
A piece of black pudding
A portion of baked beans
Eggs – scrambled or fried, you decide
Mushrooms
Chopped or fried tomatoes
2 slices of fried bread – fried in the fat from the sausages and bacon
Season as you prefer with salt, pepper, ketchup or HP sauce
A big mug of tea – preferably with free refills
English Breakfast phrases
Here are some of our top typical English phrases which will help you sound like a native in no time.
"Brew time"– It's time for a cup of tea.
"Fancy a cuppa?" – Would you like a cup of tea?
"I like builder's tea" – 'builders tea' is a strongly brewed cup of tea.
"One lump or two?" – This refers to how many sugars you would like in your tea. English people typically have their tea with milk, and some with sugar.
"What did you have for brekkie?" – What did you have for breakfast?
"I'll have a full English, please!" – I will have the full English breakfast, including everything from fried bread to mushrooms.
"Let's treat ourselves today and have bacon butties!" – Let's treat ourselves today and have bacon sandwiches.
Learn languages at your pace