One continent, 44 countries and hundreds of languages
Today is the European Day of Languages, organised by The Council of Europe.  As well as celebrating cultural diversity it's a there to remind us that learning a new language is possible, at any age.
Here at Lingoda, we speak more than 50 languages, including Croatian, Latin, Georgian, and Irish. And of course, we are huge advocates for learning. Many of our team speak a second, third or even fifth language! Although we've got some catching up to do. There are around 225 indigenous languages in Europe alone.
It's also an opportunity to remember all the positive aspects of learning a new language. You'll grow in confidence, make new friends, and open the door to a new career. Language really is that important – and powerful. 
Of course we're also language geeks! We love learning crazy facts and mind-blowing vocabulary. And who better to ask about European language trivia than the Lingoda team. Here are their top European language facts, and also their favourite words in English, German, French and Spanish (the languages that you can learn online with Lingoda).
10 amazing facts and figures about European – and other languages
Over 50% of EU citizens speak another language. Around 25% speak two or more – wow!

London boasts over 300 languages from Indian, to Russian, Polish and Chinese. 

Almost half of the world's population is bilingual or plurilingual.

Bilingualism can make learning a new language much easier. It can also enhance the thinking process.

The longest village name in Wales (Anglesey) is Llanfairpwllgwyngyllgogerychwyrndrobwllllantysiliogogogoch (58 letters)! Its literal meaning is: St Mary's in Hollow of the White Hazel near to the Rapid Whirlpool of Llantysilio of the Red Cave!

Languages are related to each other like the members of a family. Most European languages belong to the large Indo-European family.

The Romance languages include Italian, French, Spanish, Portuguese and Romanian, among others.

The Germanic family of languages includes Danish, Norwegian, Swedish, Icelandic, German, Dutch, English and Yiddish, among others.

The non-European languages most widely used on European territory are Arabic, Chinese and Hindi, each with its own writing system.

English is considered the most useful language in the world and many international companies use it as their working language. 
If you would like to become bilingual, plurilingual, or a polyglot, check out our website today where you can find information on all of the courses we offer.
European words that do not have a direct translation in English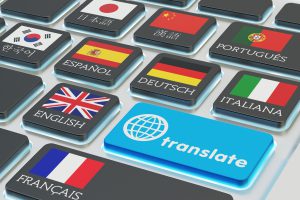 German
Trennungsagentur
A man hired by women to break the news to their husband or boyfriend that they are dumped. The literal translation is "separation agent".
Krawattenmuffel
Someone who doesn't like wearing ties.
Zechpreller
Someone who leaves a restaurant without paying the bill.
French
Retrouvailles
The joy of meeting someone after not seeing them for long time.
Chantepleurer
The act of weeping and singing at the same time.
La douleur exquise
A phrase to describe unrequited love
Spanish
Piropo
When someone pays you a compliment on the street.
Estrenar
Wearing or using something for the first time.
Desvelado
Suffering from sleep deprivation, or being unable to sleep. 
Do you have any words in your native language which cannot be translated into English? We would love to hear from you. You can engage with us on Twitter, Facebook and Instagram.